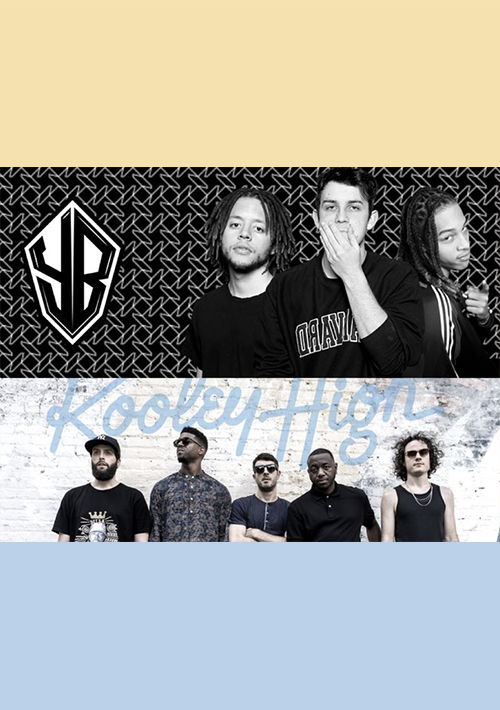 Motorco
| | |
| --- | --- |
| | June 22, 2019 |
| | 8:00 pm |
| | Durham, NC |
| | Motorco Music Hall |
| | Google Map |
Buy Tickets
Young Bull is a forward-thinking hip hop and R&B trio comprised of founding members Mique and Fox Peck, along with rapper/singer Christian Sinclair.
Based in Durham, North Carolina, they are rooted in a distinctively Southern sound—fusing trap and old-school soul influences into a rich, modern sound. With over 1,000,000 plays on Spotify alone in the last year, a slew of successful festival, college, and club shows, and heavy critical acclaim, YB is making moves in the music world.
Backed by some of the funkiest musicians in the country, Young Bull has performed up and down the East Coast and continues to tour, record new music, and collaborate with fellow artists.
Kooley High is composed of six former N.C. State University students, who met on campus by way of hip hop. They started out as a student-run hip hop organization, known as H2O. The North Carolina group is made up of three MCs, Charlie Smarts, Tab-One, and Rapsody, two producers, Foolery and The Sinopsis, and a DJ, Ill Digitz. Rapsody left to pursue a solo career.
Like most kids in his native town of Charlotte, North Carolina, Leroy Shingu, had a head filled with Hip-hop dreams growing up, even trying his hand at freestyling when he was all of nine years old.
But a storied background starkly different to the blissful suburban reality of his peers would compel the rapper better known as Well$ to turn that childhood fantasy into his newly launched career as a rapper.
Quietly released in 2012, $ay La V, Well$' debut EP rose steadily on the Bandcamp charts to peak at number 5 and eventually become the most downloaded album in the Charlotte Area. That remarkable ascent as well as the video for the song State of Ecstasy The Interlude Part 1 hauled Well$ out of virtual anonymity, and shoved him onto high profile stage performances with artists such as G Eazy, Chris Webby, Johnny Polygon, and one of his idols Pac Div.
Proud To Be An American, one of Well$' standout tracks off $ay La V, is the assured declaration of a young man who has come to terms with his identity and adopted home, flaws and all. Yet it wasn't always this way. Born in the US to Congolese illegal immigrants, Well$ has encountered the ins and outs of America's legal system for as long as he can remember. What started as a routine police search ended up with his mother serving a six-month jail stint when it emerged that she was in the country undocumented. Left mostly in the care of a grandmother who barely speaks English, Well$' teenage life slowly spiraled downwards into delinquency. Dabbling in car theft, drug dealing and eventually dropping out of high school caused his concerned mother to ship him off to New Orleans to stay with his cousin Alec Lomami in the hope that he could steer him back on to the straight and narrow.
Lomami (nowadays producer and Immaculate Records label owner) averted Well$' focus to music as a means to channel his feelings of angst and isolation. In 2010 the two of them began work in earnest on Well$' debut, marking the turning point for him.
As always, on his forth-coming album Well$' music deftly walks the tricky balance between niche underground and commercial mainstream drawing on styles that range from breast-beating braggadocio through to quiet, moody introspection. "My music is like me, sometimes it's serious, sometimes it's playful, sometimes it's happy, sometimes it's sad, sometimes it's meaningful and sometimes it's meaningless," Well$ describes his swinging pendulum of musical expressions, always true to his realest self.
Fatherhood is one of many subjects that Well$ touches on, himself newly a father to a three-year-old. The lead single Black Swan explores the life choices of a young woman affected by an absent father. Elsewhere, on Major Pain Well$ walks in the shoes if his own imperfect dad.
In Dreams of an Insomniac, Well$ stands on the edge of a cliff and meticulously lays out fears of flying – those pesky "what if" questions that keep him up at night.
That rare and commendable honesty Well$ displays comes from his admiration of now era rap stars. "Kid Cudi, Wiz Khalifa's tape Kush & Orange Juice, Pac Div, Drake.
https://www.motorcomusic.com/event/1835068-young-bull-kooley-high-durham/